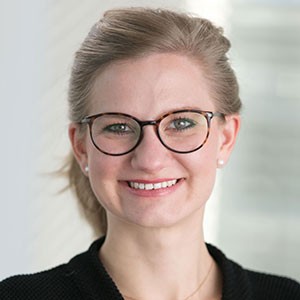 Logistics is already one of the significant drivers for digitisation. With the series of scientific papers entitled "Future Challenges in Logistics and Supply Chain Management" Fraunhofer IML is making another contribution towards a successful digital future: the new whitepaper takes up current challenges for logistics, illuminates trends new as well as technologies and business models, says Carina Tüllmann who explains the requirements of the series of scientific papers.
The new series offers the context to deepen current research topics of logistics and integrate new research results properly: the releases published as whitepaper seize current challenges for logistics, comment on trends and focus novel technologies and business models. The individual publications reflect current, often interdisciplinary research fields at Fraunhofer IML and its partners. They give impetus for the further development or applications. The aim is to embed topics and future scenarios of logistics in science, business, politics and society, because modern logistics sees itself as an open eco-system in which all stakeholders, products and services are connected to each other – in the real and in the digital world.
The content of the publications forms the guiding principles for "Social Networked Industry" which focus on the cooperation between humans and machines in an increasingly networked economy. One of the first publications in the series – "Social Networked Industry – an integrated approach" – logically defines the scope of design for what is the currently biggest common task for all stakeholders in logistics.
Moreover, a whitepaper about cognitive ergonomics in logistics draws attention to a previously hardly known research field that is now gaining considerably importance in light of the increasing cooperation between humans and technology as well as technical systems in the networked economy. The authors of another whitepaper about human-technology interaction finally indicate that currently there are only standards or guidelines regarding the safety of machines or their ergonomic design for this topic of "cooperation between humans and technology". This is no longer sufficient for the technologies of the future.
All in all, the scope of the new publication series is very broad. It ranges from intelligently networked supply and agile added value systems to human-technology interaction.

Innovation eco-system is behind series of publication
The publication series is developed in cooperation with the three big research and innovation initiatives at Fraunhofer IML: Leistungszentrum Logistik and IT (National Centre of Excellence for Logistics and IT), Innovationlab Hybrid Services in Logistics and EffizienzCluster LogistikRuhr. Together with the EffizienzCluster, Fraunhofer IML already laid the foundation for modern logistics research in 2010 which makes an essential contribution towards solving societal challenges and pushes forward the development of logistics as a high-tech industry significantly. In the National Centre of Excellence the current research topics are now being pooled and interlinked in cooperation with universities, institutes, initiatives and projects. The Innovationlab intensively addresses new solutions for the "Social Networked Industry" in the field of fundamental and application-oriented research. All initiatives focus on interdisciplinary cooperation for relevant future questions of logistics.
ABOUT THE AUTHOR
Carina Tüllmann (MBA), Department of Strategic Initiatives at Fraunhofer IML, is Head of Digital Communication. One of her tasks is to coordinate the new publication series.
MORE ABOUT THE TOPIC
Publisher of the publication series "Future Challenges in Logistics and Supply Chain Management" are the Directors of Fraunhofer IML: Prof. Dr. Dr. h. c. Michael ten Hompel (Managing Director), Prof. Dr. Michael Henke and Prof. Dr.-Ing Uwe Clausen. The whitepaper "Social Networked Industry – an integrated approach" is also available in English. Here you can download the whitepaper "Social Networked Industry – an integrated approach".
More German editions of the publication series focus on the topics "Prozesse durch Digitalisierung nachhaltig optimieren" (sustainably optimising processes by digitisation), "Kognitive Ergonomie in der Logistik" (cognitive ergonomics in logistics), "Herausforderungen der Mensch-Technik-Interaktion in der Intralogistik" (challenges of human-technology interaction in intralogistics), "Paradigmenwechsel der Planung und Steuerung von Wertschöpfungsnetzen" (paradigm shift in planning and controlling supply chains), "Bedeutung von Daten im Zeitalter der Digitalisierung" (significance of data in the era of digitisation), "Circular Economy Logistics: Für eine Kreislaufwirtschaft 4.0" (Circular Economy Logistics) and "Blockchain und Smart Contracts: Effiziente und sichere Wertschöpfungsnetzwerke" (Blockchain and Smart Contracts: Efficient and secure value creation networks). These publications are available for download here on the webpage of Fraunhofer IML.