Our Research in Supply Chain Engineering adresses risk magagement and artificial intelligence as well as platform economy and sustainability
Promising ideas often result from collaboration. In order to generate the necessary benefits, research content has therefore to be actively developed and elaborated in close cooperation with companies. According to the motto of Joseph von Fraunhofer, the research of the Supply Chain Engineering department is application-oriented. The company's needs determine how new ideas and approaches for planning supply chains are shaped. The research projects thus lead to prototypes that can be adopted and further developed by the companies. Currently, the department Supply Chain Engineering is investigating in methods and approaches of risk management, artificial intelligence, their combination with simulation and topics of platform economy as well as sustainability.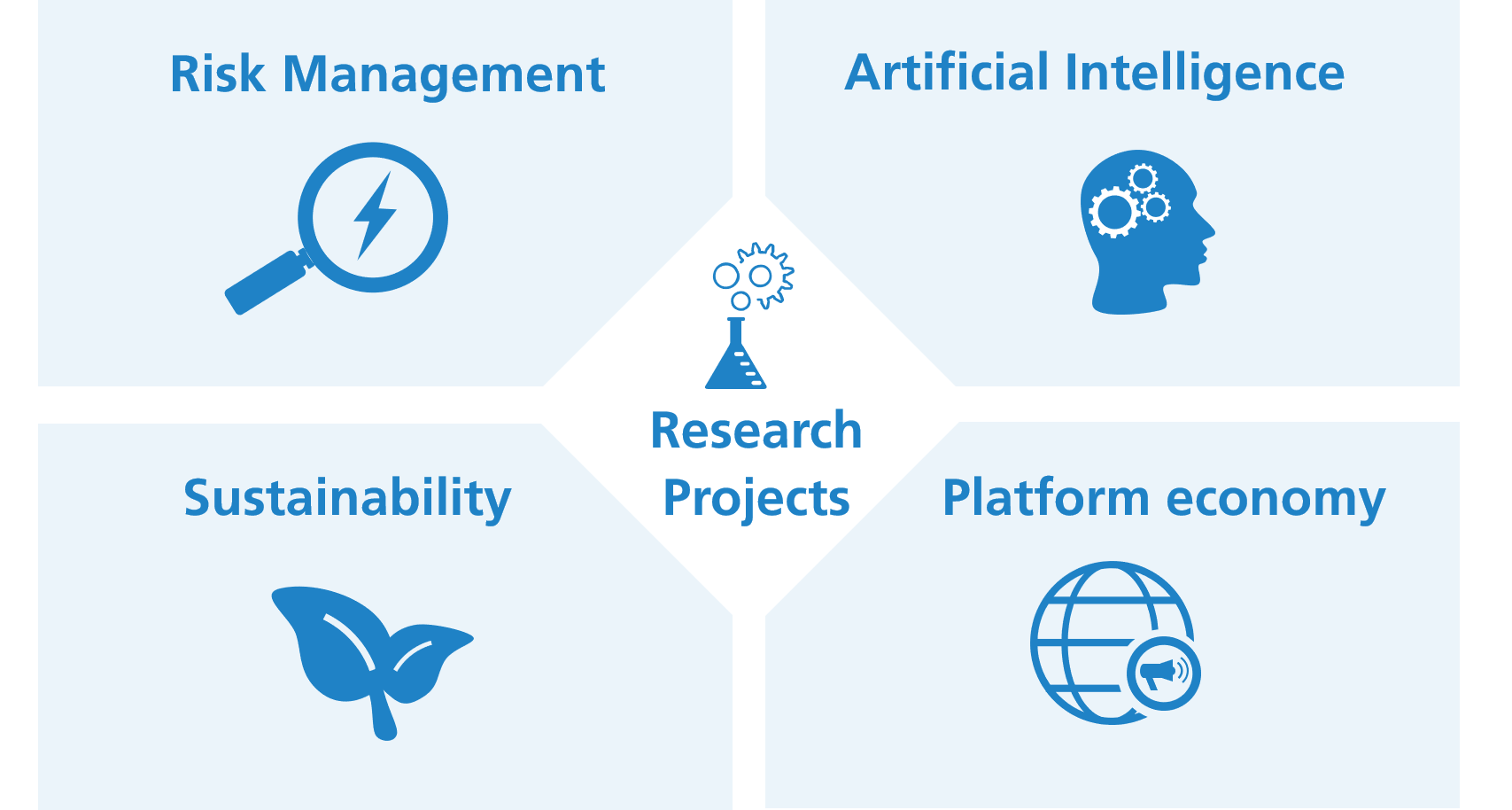 Examples from current projects with focal points of the respective categories
Regarding the risk management, the focus is on strategic, disruptive and operational risks. With the involvement of new possibilities of the digitization our department focuses on the construction of resilient supply chains. This also includes the identification of approaches to adjust supply chains offhand in order to keep up with the altering environment. On this occasion, the integration of artificial intelligence into risk management provides high potentials. A holistic view of risk management is made possible by our in-house, discrete-event simulation OTD-NET. A focal point thereby lies with the connection of simulation and artificial intelligence, whether by generating synthetic supply chain data as learning data for AI-procedures or by evaluating solutions themselves. In both cases, simulation offers approaches that inspire research.
Projects with risk management and AI
Some preliminary work on the use of simulation in a pandemic situation has been done through the Fast Ramp-Up research project. Following up, the currently ongoing EU-project CO VERSATILE is dedicated to ensuring a stable supply chain for medical life support equipment. Artificial Intelligence plays a crucial role in many different projects, which also have intersections with other areas such as risk management or platform economy. Projects such as MOVE and AI CUBE deal with mastering of ever-increasing amount of data and the requirements of increasingly complex supply chains, as well as possibilities of AI-driven simulation tools.
Platform economy
From the viewpoint of platform economy, our research is an aid especially to SME (small and medium sized enterprises). Primary aim thereby is the development of services for SMEs that can be used sporadically and provide a help in very specific situations. Suitable for this purpose is e.g. services of simulations, which have been developed in CO-VERSATILE. The exchange and progressive networking of information offers advantages as well as opportunities. Especially the usage of simulated scenarios and functioning communication platforms have a great potential for optimizing supply chain networks. A current project in this category, that also have elements from risk management and artificial intelligence, is e.g. ResKriVer. Moreover, this department is involved as a cooperation partner in further blockchain research projects such as the Silicon Economy and Blockchain Europe.
Sustainability
Aspects of sustainability have to be considered due to climate development. One of the key aspects at Fraunhofer IML is to support the product development in combination with the circular economy. The Supply Chain Engineering department assists this proposal by evaluating of supply chains in terms of energy- and CO²-measurement. Sustainability also means the inclusion of economic factors and indicators of supply chain resilience. A holistic overview can be achieved among other things by an interplay of digital twin and supply chain simulation. Projects such as our long-term research project E²-Design aims to point out possibilities and chances of including sustainable factors into supply chains. Thereby, enterprises should be empowered to integrate the energy efficiency as another target variable into their strategic and tactical planning of supply chains in accordance to classic performance and cost parameters.