National Centre of Excellence for Logistics and IT becomes even more international with new labs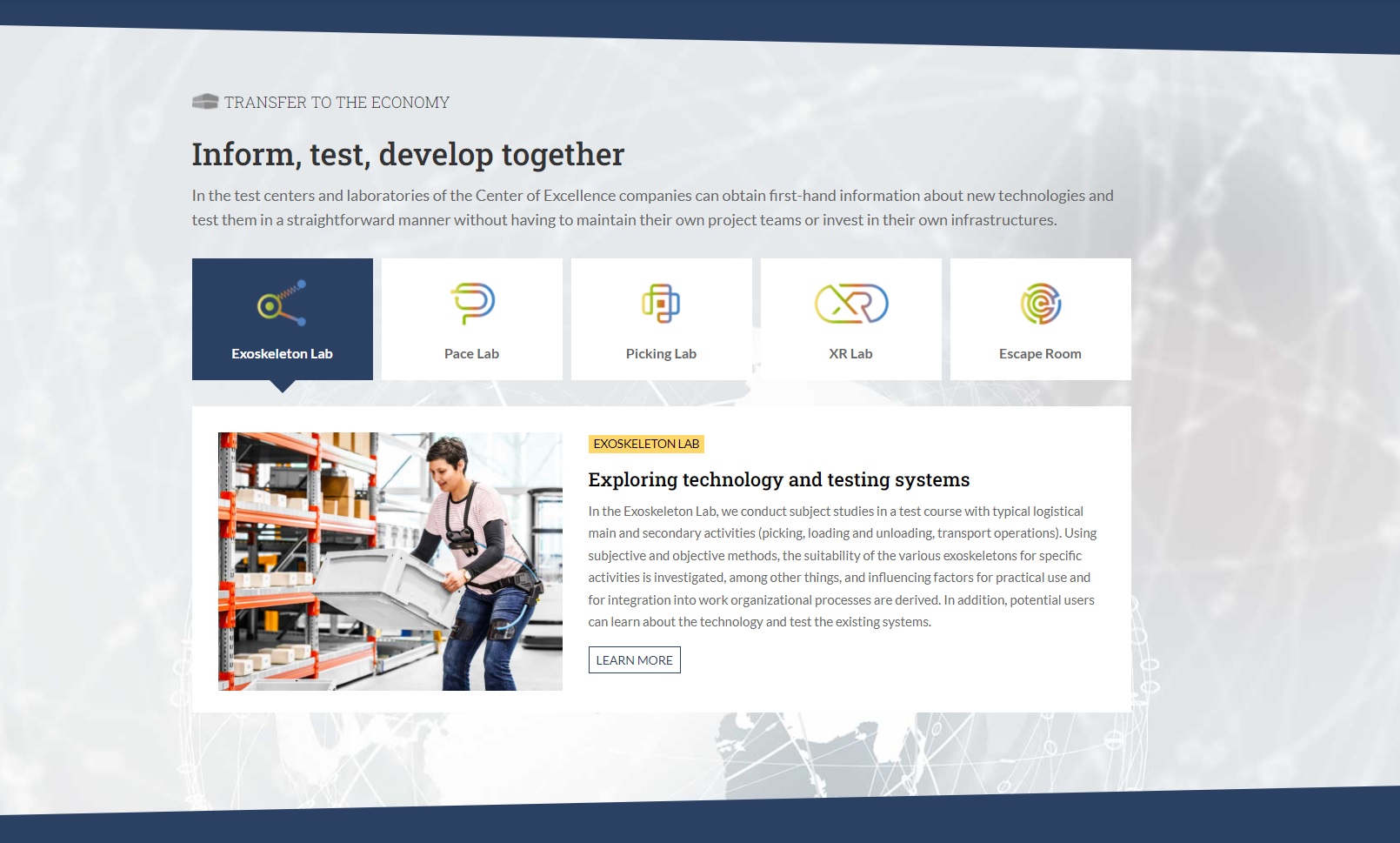 With the establishment of new laboratories and testbeds at Fraunhofer IML, the National Centre of Excellence for Logistics and IT now enables the specific transfer of research results to industry, aiming at an international audience. The important topics in which the researchers do not least offer market overviews and perspectives of new technologies and systems in Germany and Europe include highly innovative picking methods, exoskeletons for use in logistics, or mixed reality (XR) in education and training.
"With our research infrastructure, companies get the opportunity to obtain first-hand information about new technologies and test them in an uncomplicated manner without having to maintain their own project teams or invest in their own infrastructures," explains Dr. Matthias Parlings from Fraunhofer IML, who is responsible for transfer development at the National Centre of Excellence for Logistics and IT.
The National Centre of Excellence for Logistics and IT was founded in 2017 as joint project of Fraunhofer IML, Fraunhofer ISST and TU Dortmund University and funded by the state of NRW. Since the beginning of this year, the scientists there have been setting the course for the establishment of "Center for Safety of Autonomous Systems in Logistics CeSaS" in a total of four interdisciplinary research groups, i.e. the research clans. Fraunhofer IML supports the activities with 1.5 million euros and focusses on transfer to industry. In this context and from the research clans, the new Lab structure was established which is open to all interested companies.
Solutions are used in the whole of Europe
• At the Picking-Lab, companies receive comprehensive consultation and wide-ranging services on order picking methods. "Here, typical intralogistics areas such as e-commerce, small part order picking or load handling can be simulated. We examine and evaluate the technologies according to ergonomic criteria and objective performance criteria in a person-to-goods order picking setting", explains Dr Veronika Kretschmer, scientific employee at Fraunhofer IML. The Picking Lab already works together with numerous international manufacturers including suppliers of order picking technologies. Within Europe, contacts exist in particular with Austria, for example with the Chamber of Labor in the area of human being, technology and digitalization.
• The "Exoskelett Lab" researchers got a global overview of the exoskeleton suppliers within the context of setting up a "logistics course". The researchers' analysis focused on the US markets where the first commercial exoskeletons were developed and on the Netherlands and Italy. In the logistics course at Fraunhofer IML, the current possibilities of exoskeletons in logistics can be demonstrated in an application- and process-specific manner. The course includes typical logistical main and secondary activities (order picking, loading and unloading, transport operations) and is part of the "Design of socio-technical systems" research clan.
· The XR-Lab develops applications with Mixed Reality (XR) that increase the intrinsic motivation of employees in intralogistics, overcome language barriers and demonstrably design the knowledge dissemination in trainings more efficiently. The training software includes InGo (goods in), PickNick (order picking), PackNick (packaging) and LiftNick (forklift training). All modules are available in English, the forklift simulator also in Spanish and Arabic. Basically, each question can be easily integrated. The forklift training is already in use in the Netherlands and in Egypt, and is expected to be launched in Mexico shortly. The lab provides companies with a technology overview and support for technology selection and also with different trainings on how to digitize their education and training.
• In the "PACE-Lab", companies will discover a development and test infrastructure with real time data collection and analysis, e.g. for autonomous guided vehicle (AGV) or drones. There, the performance and reliability of own objects can be tested and algorithms can be optimized in joint projects with research. The offer particularly addresses manufacturers and users of AGV as well as users of AGV solutions.
• Another offer of the National Centre of Excellence for Logistics and IT is the "Escape Room" to perform escape games. With the "eRiddle", researches already developed a learning arrangement for the "Digital Transformation". More topics for the interactive format are planned.
You can find more information on the work of the National Centre of Excellence for Logistics and IT at www.ce-logit.com.